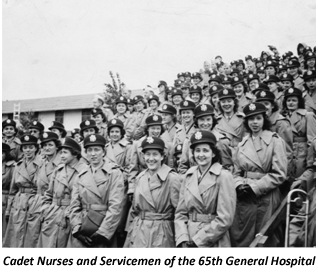 In April, the School of Nursing welcomed back its graduates for their annual alumni weekend. Nursing education has a long and rich history here at Duke. From its beginnings in 1931 to the present day, Duke has attracted the best faculty and produced top graduates. Among these graduates is a unique group that exemplified service: the Cadet Nurses.
On April 30, 1941, prior to U.S. involvement in World War II, the United States Public Health Service (USPHS) issued a call for schools of nursing to increase enrollment in order to train more nurses for military, health, and civilian service. Duke responded by admitting 84 students in October, 1941, a boost from 58 the previous year.
After the bombing of Pearl Harbor later that year, the United States officially entered the war. U.S. involvement resulted in an increased need for nurses, and on July 1, 1943, the Nursing Training Act was signed into law, officially establishing the Cadet Nurse Corps Program. This program was administered by the USPHS to finance the training of eligible women, at participating schools, to become nurses and part of the war effort.
Duke facilitated this program by increasing enrollment and shortening the gap between admitting classes from twelve months to nine months. Entering class enrollment peaked at 121 students during this period.
While the number of nursing students grew, the number of graduate nurses at Duke Hospital shrank from 110 to just 45 from 1942 to 1943, as many went to join the military service. Nursing students were called on to make up the difference, their number swelling from 189 to 275 from 1942 to 1944. Their service in the Hospital added extensive hands-on training to their already rigorous courses.
Duke graduated 302 nurses from 1939 to 1946 and, through the Cadet Nursing Program, had a significant impact on the war effort. The program also influenced nursing education at Duke in the years to come, as the intensive training of nurses during World War II set a precedent for increased training that would continue into the 1950s.
To learn more, please visit the Medical Center Archives Website or email dumc.archives@mc.duke.edu.
Submitted by Matt Shangler, Assistant Archivist, Medical Center Archives