Finding Full-text with EndNote
Posted by Beverly Murphy - Wednesday, November 14, 2012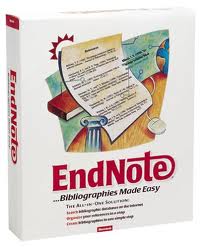 Want to find the full-text for the citations in your EndNote libraries? A new EndNote feature can be used to find the full text versions of the articles and store them within the Library for you. It's easy to use and does a fairly good job.
When you have selected the citations that you want to find, choose the "Find Full Text" feature. You will need to go to Preferences and change them for this feature so that it uses "PubMed Linkout" and the "Open URL Path" (http://getitatduke.library.duke.edu), which will try to link you to the full text at Duke. Once you start the feature, you will need to agree to the copyright statement, but then EndNote will attempt to find a PDF. If a PDF version is not available, it will often retrieve the URL to an article available in HTML.
When the article is found, a paperclip icon appears next to the EndNote record and a copy of the PDF is stored in your EndNote Library.DATA folder. If only a Web version is available, EndNote adds the URL to the record. A summary will be provided by EndNote of the results – how many articles it searched for, how many PDFs or URLs were found, and how many could not be found. It will also find the (free) authors' manuscripts of NIH funded research available in PubMed Central.
In order to find journal articles that are available through the Duke libraries, you must be on a computer connected to the Duke network or connect from off-campus using the Duke University Web-based VPN or the Duke Medicine Web-based VPN. Please note: You cannot do this through the Virtual PIN.
While this feature works quite well, it is not perfect and will probably not find everything. Here are some reasons why the search may not find an article:
Article is too old to have a PDF available
Article is too new and the PDF is not yet available
Journal has embargoed current articles so EndNote cannot get to it
Duke does not have a subscription to the journal and there is no free access
Too many users are already in a journal with limited access
Publisher's Website does not support or allow this capability
Article is buried in a large full-text database that does not allow individual articles to be found
Journal handles letters, editorials, and correspondence differently, making it difficult to find a citation
Already have a PDF? You can manually link the PDF file you have stored by dragging it to the EndNote record. If this is successful, a paperclip will appear again, and EndNote will store another copy of the PDF in the EndNote library folder. If you don't need two copies on your computer, just delete the file from the location where you initially stored it.
Need more help? Contact Virginia Carden (919.660.1184)
Posted by Virginia Carden