From the Engel Collection: The Best Care Possible
Posted by Beverly Murphy - Thursday, September 13, 2012
This book is part of the Library's special collection established in memory of Dr. Frank Engel, who always thought students should have other reading sources that took them beyond their medical studies.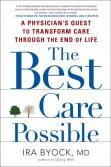 Best Care Possible: A Physician's Quest to Transform Care Through the End of Life
Dr. Ira Byock
"A palliative care doctor on the front lines of hospital care illuminates one of the most important and controversial ethical issues of our time on his quest to transform care through the end of life. Dr. Ira Byock, one of the foremost palliative care physicians in the country, argues that end-of-life care is among the biggest national crises facing us today. In addressing the crisis, politics has trumped reason. Dr. Byock explains that to ensure the best possible care for those we love - and eventually ourselves - we must not only remake our healthcare system, we must also move past our cultural aversion to talking about death and acknowledge the fact of mortality once and for all." Review from Amazon.com
Check out the Library's newest book additions or you can subscribe to our "New Books" feed.