From the Engel Collection: Ghost in the Wires
Posted by Beverly Murphy - Thursday, August 30, 2012
This book is part of the Library's special collection established in memory of Dr. Frank Engel, who always thought students should have other reading sources that took them beyond their medical studies.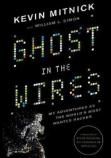 Ghost in the Wires: My Adventures as the World's Most Wanted Hacker
Kevin Mitnick, Steve Wozniak (Foreward), and William L. Simon (Contributor)
Kevin Mitnick was the most elusive computer break-in artist in history. He accessed computers and networks at the world's biggest companies. No matter how fast the authorities were, he was faster, sprinting through phone switches, computer systems, and cellular networks. He spent years skipping through cyberspace, always three steps ahead and labeled unstoppable. For him, hacking wasn't just about technological feats-it was an old fashioned confidence game requiring guile and deception to trick the unwitting out of valuable information. This thrilling true story of intrigue, suspense, and unbelievable escape, is a portrait of a visionary whose creativity, skills, and persistence forced the authorities to rethink the way they pursued him, inspiring permanent changes in the way people and companies protect their most sensitive information. Review from Amazon.com
Check out the Library's newest book additions or you can subscribe to our "New Books" feed.