Quertle: An Alternative Search Engine to PubMed
Posted by Beverly Murphy - Thursday, February 9, 2012
What is it? Alternative semantic search engine for PubMed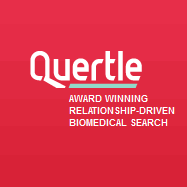 There are many alternative interfaces to PubMed, but Quertle tries to do something more. It includes additional content, including open access articles from PubMed Central and BioMed Central, grant documents from NIH's RePORTER database, drug and chemical information from TOXLINE, and, to ensure that results include the most current information available, it even includes news related to science and biomedical research.

But it's the searching capabilities that really set Quertle apart. Quertle uses a semantic search engine that looks for relationships among the terms in the article or abstract, for example, "streptozotocin induces diabetes." It also "knows science," meaning that when you search for "NO," it looks for nitric oxide, not the word no.

What does this mean for searching? Quertle finds results that have your search terms in an author-stated relationship and provides these results under one tab. Results that have your search terms as keywords appear on another tab. Synonyms are automatically included. More advanced searching is possible using "Power Terms," or index terms that represent entire classes of objects. These function similarly to using MeSH headings that are automatically exploded. In fact, many of the things Quertle does can be done in PubMed if you are familiar with advanced search techniques. Whether you are a power PubMed user or not, give Quertle a try: you just might find an interesting article on your research topic.